Got leftover sticky rice? These easy and delicious sticky rice recipes will be your next favorite breakfast, dinner, and dessert.
Sticky rice is a popular ingredient across Asia. It has many names: sweet rice, glutinous rice, or waxy rice. When cooked, it becomes gluey and sticky, and that's how it got the name.
If you live in Asia as I do, you will find sticky rice everywhere. Growing up, Lo Mai Fan (Chinese sticky fried rice) was one of my favorite rice dishes. And every time I went Yum Cha, I would order Lo Mai Gai (Sticky rice and chicken wrapped in lotus leaves). It was one of my favorite dim sum dishes.
And you will find glutinous rice in desserts as well. It is a basic ingredient for sticky rice pudding and sticky rice cake. And sometimes it will be ground into flour and used to make a variety of pastry.
So if you have some leftover sticky rice in the fridge, here is a list of easy sticky rice recipes to do wonders out of it.
Zong Zi – Chinese sticky rice dumplings
Zong Zi is a traditional food for Dragon Festival in many Asian countries. They are dumplings but wrapped in leaves with customizable fillings.
But the authentic Zong Zi will include pork belly, mushrooms, dried shrimps, Chinese sausage, and salted egg yolks.
It does require some time to make Zong Zi. But I can guarantee you the results are worth the effort. And also, you can make them in bulk, store them in the fridge and reheat them for breakfast or dinner. Follow my recipe to make Chinese sticky dumplings at home.
Thai mango sweet sticky rice
A classic Southeast Asian dessert! Soft, sweet sticky rice smothered with creamy sweet coconut sauce, then paired with sweet, juicy fresh mangos. If you love desserts with an Asian twist, don't miss this one.
Easy vegan sushi recipe
Who doesn't love sushi rolls? These vegan sushi pair Japanese sticky rice with fresh veggies and tofu to create a well-balanced flavor. Plus, making sushi is a great family activity to connect with your loved ones. Give this sushi recipe a try this weekend!
Biko – Filipino sticky rice cake
Biko, also known as Filipino sticky rice cake, is a native delicacy made with glutinous rice and brown sugar. And the caramelized coconut milk on top highlights its flavor. Follow this video to see how you can make Biko at home.
Lo Mai Fan – Chinese sticky rice
Chinese sticky rice, also known as Lo Mai Fan, is my family favorite. It is packed with savory sausage, chewy mushrooms, and crunchy peanuts.
You can make it as a side dish. Or pair it with a vegetable stir-fry, and you will have a complete meal.
Thai sticky rice pudding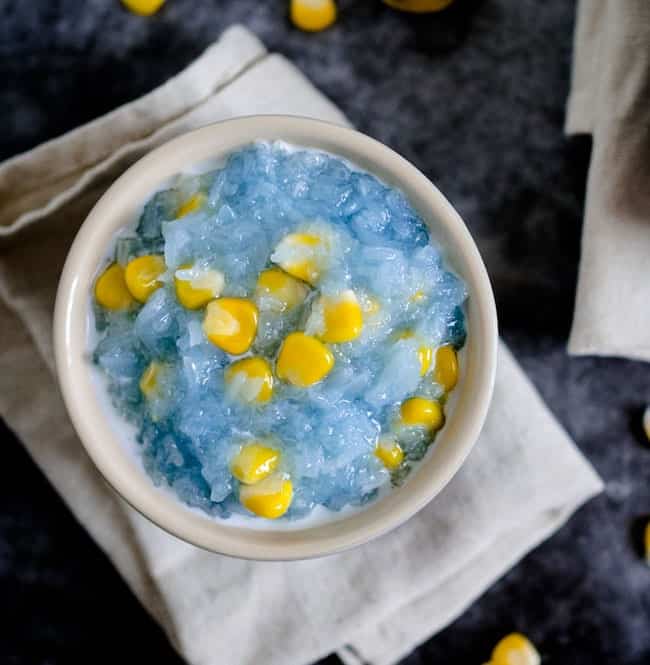 Sticky rice pudding with corn is a Thai dessert that is very simple and easy to make. It requires only a few ingredients yet never fails to delight!
Creative baked sushi
If you haven't tried sushi bake before, you are missing out. Sushi bake is a sushi roll transformed into a baked casserole. The baking adds extra crunchiness to the table. Easy, customizable, and every bite is delectable! Great for a family dinner or friendly get-together.
Black sticky rice pudding with coconut milk
Black sticky rice is a type of glutinous rice commonly seen in Southeast Asia. And this Thai dessert with black sticky rice and coconut milk is a classic. The two ingredients create a dense and creamy flavor. Served warm, the pudding will burst your winter cravings.
Lo Mai Gai – Chinese sticky rice wrapped in lotus leaves
If you go to dim sum restaurants, you will definitely see this on the menu. Lo Mai Gai, which translates as sticky rice and chicken, is one of the most popular dim sum dishes.
Wrapped in lotus leaves, the rice and chicken are fragrant and savory. Follow this video to make Lo Mai Gai at home.
Tuna cucumber sushi roll
The best thing about sushi rolls is that you can add almost any ingredient to your liking. This tuna cucumber sushi roll recipe is a good example. Albacore tuna, sushi rice, jalapeno, avocado and radishes are all rolled up in thinly sliced cucumber. Topped with spicy mayo, these sushi rolls will use up your leftover sticky rice and make the next big hit in your kitchen.
Filipino chocolate rice porridge
Chocolate dessert for breakfast? Sign me up. Champorado, or chocolate rice porridge, is a traditional Filipino breakfast. Made with sticky rice and pure cacao tablets, the porridge is creamy and chocolatey.
Vegan poké bowl
Leftover sticky rice is perfect for a healthy lunch. These vegan poke bowls are bright and tasty, pleasing vegans and meat-eaters alike.
Bibingkang Malagkit – Baked sticky rice cake with caramel sauce
Similar to Biko, Bibingkang Malagkit stands for sticky rice cake. But it is baked in the oven topped with caramel sauce. And The following video will show you how to make this traditional Filipino delicacy.
Which of these sticky rice recipes is your favorite?
Share your thoughts in the comment below!