Not only street food or dim sum, but more of a feast. Learn how to make traditional Cantonese braised beef brisket the easy way at home.
Every now and then, I recreate popular Asian street food. The oyster omelet was a success. And it gives me the confidence to try something a little more advance – the braised beef brisket with radish.
But it is more than street food. It's considered as a Ying Cai (硬菜), meaning meaty and presentable dishes. If you have been to a dim sum restaurant, you may have already tried it.
Because of its popularity, you can sometimes find it at the food stalls around the corner. And that's how I was first introduced to the dish. And I just couldn't forget the taste ever since.
The reason why I love braised beef brisket as a kid and as a grownup is the richness in flavor and texture. Tender beef, plus the flavorful radish soaked in the creamy beef broth, this dish alone is an entire dinner.
If you love traditional Cantonese recipes, follow along to make your own pot of braised beef!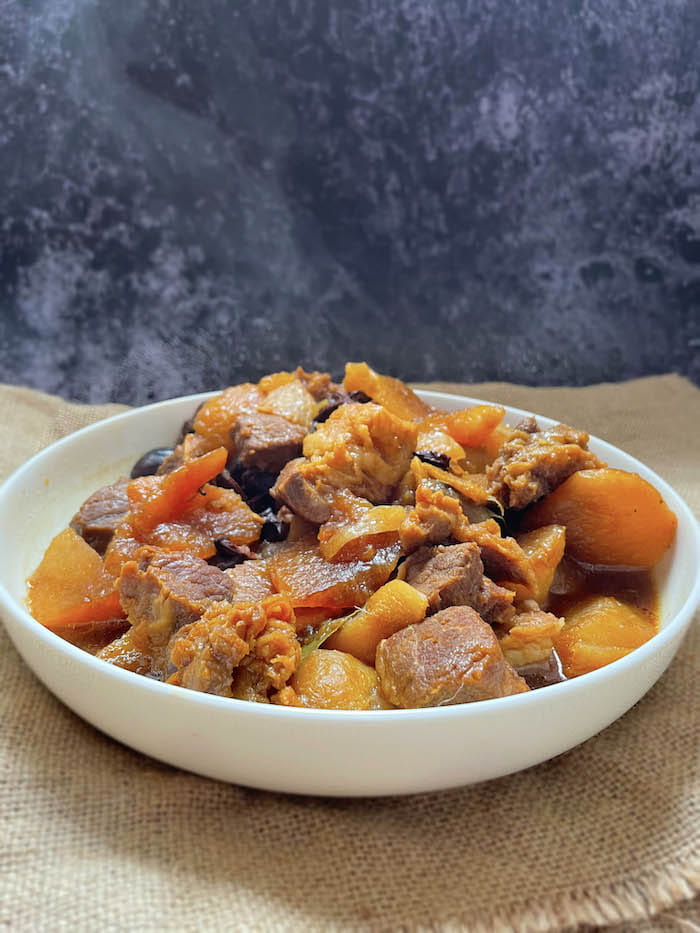 Which cut of beef should I use?
There are many versions of braised beef recipes in China. But most of them use the tougher cuts of beef – brisket or flank. In Chinese, they are all named Niu Nan (牛腩), which refers to the beef belly.
Beef brisket, compared to flank, is fattier. It contains more cartilage. And when slow-cooked, the fat melts in the sauce, adding an extra creaminess to the dish. That's the part I use in this recipe. Feel free to replace it with flank if you prefer leaner cuts.
What utensil do I need?
Compared to the shank I used in beef stir-fry with tomato and king oyster mushroom, brisket and flank are trickier to cook. As they contain more sinew, it takes longer to cook them tender. But these cuts are also known as the most flavor part of beef.
If you are like me, you probably don't have 3 hours for a pot of braised beef. In that case, I would recommend using an induction cooker, a pressure cooker, or a thermal cooker like I do in this recipe.
How to make the braised beef brisket and white radish?
Ingredients
1 Daikon radish, medium
1 lb Beef brisket
30 grams fresh ginger
2 teaspoons Olive oil
Seasoning
1 tablespoon Dark soy sauce
2 tablespoons Light soy sauce
1 tablespoon Oyster sauce
1 tablespoon Soybean paste
2 teaspoons Shaoxing wine
Spices
5 grams Star anise
3 grams Bay leaves
2 sticks Cassia cinnamon
Note: If you don't have these Chinese spices, you can use five-spice powder instead.
Step-by-step instructions
Cut the beef brisket into medium-sized chunks. Rinse with tap water.
In this recipe, I used store-bought diced beef and it is a time-saver. If you are preparing from scratch, make sure to slice across the grain for tenderness.
Bring a pot of water to a boil, and then add the beef. Cook the meat over high heat for 2 to 3 minutes.
Blanching helps to remove impurities from the beef. It's commonly seen in slow-cook recipes or soup.
Wash and peel the radish. Then roll-chop it into small chunks.
Rolling chop, or rolling cut, is a cutting method widely used on carrot and radish in Chinese recipes. Basically, you make one cut, roll to the other side and make the second cut.
With roll cutting, each piece will be in irregular shapes, maximizing the size of the surface. When exposed to heat, the chunks will be cooked through quicker. Here's a video showing how:
Slice the fresh ginger thinly. And rinse the spices 2 to 3 times.
In a stewing pot, add 2 teaspoons of olive oil. Coat the bottom and then add ginger slices. Sear until the ginger is slightly golden at the edge.
Add the blanched beef brisket and sauté for a minute or two. Pour enough water to soak the beef once the chunks turn brown.
Add bay leaves, star anise, cassia sticks. Cover the lid and braise over medium heat for 20 minutes.
If you don't have all the Chinese spices, you can use five-spice powder instead. Sprinkle to taste.
Add radish and water to the pot till all the ingredients are soaked. Finish the seasoning by adding light soy sauce, dark soy sauce, oyster sauce, soybean paste, and Shaoxing wine.
The best practice of seasoning braised beef brisket will be using Chu Hou paste (柱候酱). However, it's not quite accessible depending on where you live. So in this recipe, I use soy sauce and soybean paste to simulate the taste. And the result: delicious.
Bring the pot to boil over high heat and cover the lid. Switch to medium-low heat and braise.
Depending on the cookware you are using, the time of braising will be different.
Cooking with an induction cooker, a pressure cooker, or a thermal cooker: Braise for another 20 to 30 minutes before sealing the pot. The pressure helps to break down the cartilage and melt the fat. Seal and cook for another hour before serving.
Cooking with a regular wok or a pot: Braise over medium-low heat for another 2 hours till tender.
Open the lid, transfer to a plate, and enjoy!
The braised beef with radish has all the goodies in one pot: protein, fiber, fat, and flavor. It is comfort food as well as a one-pot dinner dish.
I love to serve it with jasmine rice or chow mein and share it with the entire family. Give it a try!
Have you made the braised beef brisket with daikon radish?
Let me know how it goes if you have tried this one. Don't hesitate to leave your questions if you have any. Also, check out these Chinese beef recipes for more inspiration. Happy cooking!